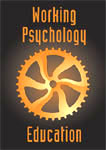 Working Psychology
Academic Education Program: Classwork
Dr.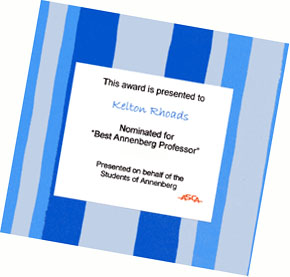 Rhoads teaches a number of psychology and communications courses, both undergraduate and graduate. Most are taught at the Annenberg School for Communication or the Psychology Department at the University of Southern California. The partial syllabi from previous classes are posted below; they are here for students who are "shopping" for classes and would like to take a look at past syllabi in order to get a better feel for courses. Please note that the abbreviated syllabi from previous classes will not be the same as current syllabi--there are always modifications and updates to current syllabi. Please note that current course syllabi are not available here--see Dr. Rhoads in class to obtain the current syllabus for a class.
302 - Persuasion
304 - Tactical Interpersonal Communication
320 - Small Group & Team Communication
350 - Intro to Statistics
355- Social Psychology
402 - Public Communication Campaigns
510 - Communication, Values, Attitudes & Behavior
535 - Virtual Teams
581 - The Media in Social Services
461 - Interpersonal Influence
499 - Psychology of Influence

---
Copyright © 1997-2005 by Kelton Rhoads, Ph.D.
All rights reserved.
www.workingpsychology.com

Adherence, advertise, advertising, advocacy, analysis, arizona state university, asu, art of persuasion, arguing, argument, argumentation, attitude, attitude change, belief, bias, brad sagarin, brainwashing, campaign, communicate, communication, conversion. Compliance, comply, conform, conformity, consult, consultant, consulting, course, courtroom, credibility, credible, cult, cults, debate, decision making, education, emotion, executive education, executive program, executive training. Group, how to, influence, influencing, kelton rhoads, kelton rhodes, kris haynal, law, leadership, leadership training, leadership education, legal, likability, management, management, market research, marketing, mass marketing, mass persuasion, mass influence, mind control, motivation, negotiation, obedience, opinion, organizational services, personality, persuade. Persuasion, persuasive, political, political consulting, politics, polling, influence principles, professional services, program, promote, promotion, propaganda, psychological persuasion, psychological operations, psyop, psychological research, psychology, psychology of persuasion, psychology of influence, public relations, questionnaire, reinforcement, reputation. Research, rhetoric, rhetorical, rhoads, rhodes, rhods, rodes, rhoads, robert cialdini, chaldini, sales, sampling, science of persuasion, science of influence, sell, selling, small group research, social influence, social psychology, social action campaign, speaker, speech, spin, statistics, strategy, survey, technique, trial, university of southern california, usc, workshop, working psychology, work.